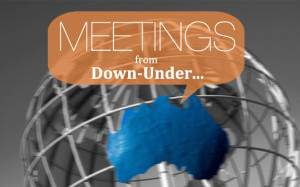 Meetings From Down Under …Australia
I am grateful to all of you for the prayers while I am in Australia. The time here has been very encouraging, to be able connect with friends, partners and family have been a blessing to me.
Dr. Gladwyn and Helen Turner have been part of our family since 1984 and are the ones who are hosting me and helping me on my itinerary here. My first week was spent at Hillsong Conference, this was a first for me to be able to attend. I am grateful to Pastor Paul and Linda Hodsdon for making all the ticket arraignments and hosting me to attend Hillsong Conference. The time spent their was very valuable to me , having the opportunity  to hear from great speakers ( mostly all from Texas )  , great praise and worship , and to see and experience the thousands of people from all around the world worshiping together.
During the afternoons each day, we had many different breakout sessions. This is a smaller group setting, only a few hundred to a few thousand in this setting. The main session had 30K plus each session. As I attend one of the sessions, held in a ballroom, that holds around 2000 people.  As I found a seat , a young man sits next to me , maybe a college student, as this was the before the start of the session , the seats were just getting filled up, their were many chair around me not yet full. I introduce myself to the young man , he said his name was Jorg . He just completed his first year of college and was on break and came to Hillsong for the first time, His sister was attending Hilsong College.  I asked if he was from Germany? He said yes , I said I was able to minister in Germany in March in a small town called Lorrach , and he says he was from this small town. Then I said we have great ministry partners their and they have a real estate business their. Then  Jorg tells me his fathers is in the same real estate business , and I ask him his fathers name and he tells me Dr. Jorg. Dr Jorg  is a friend to our ministry and are business partners with Rev. Knut and Ursula Ofen who represents us in Germany.  I actually have been to this young mans home in Germany.
Wow, a God Divine monument. Of all the seats Jorg could have sat in, but he sat next to me .
Sometimes we think things happens or they are just a coincidence , but God has a plan for all of us , no matter how small they may seem.
Continue to pray for me here, for favor, for new doors to open. I will be here till Aug. 12 , and then to Singapore then to our campus in India.
Blessings from Down Under..
Jameson