Thanksgiving Praise Report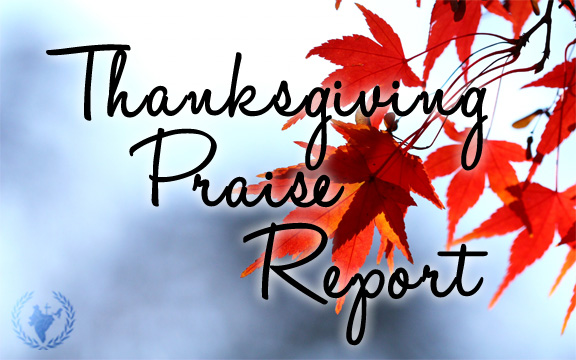 I am grateful to all the partners who have hosted my mother, Mary, and me during our travels in the USA. Thank you so much for your continued prayer and support!
We are on campus now and have been catching up here. Our school and all buses are back up and running. All of the children are able to attend school at the present time. The problems with the state division are still ongoing, but thank God the strike in our area is over for now. Thank you for praying and standing with us during this difficult time. The cyclone that passed through here did very little damage to our immediate area, but please continue to pray for those effected as they rebuild what was lost.
Since we've returned to India, we have hosted teams, visited churches and new church sites. We also attended conferences and finished our Annual Pastors conference just today.
For all of you who have been praying for the pastors conference –  thank you! We had over 150 pastors from all over India gather for 3 days of meetings on our campus. The conference is a time of praying for one another and hearing reports from each area of ministry from our pastors. Our Delhi pastor, Pastor Joseph, shared information on persecution involving civil cases that are brought against pastors there. Hyderabad Pastor, Pastor Sonny, spoke about problems that arose from the state split as Hyderabad is our state capital at present. Pastor Isaac updated us on the new church, how it is growing and the construction that is almost completed.
This is also a time of encouraging one another, teaching and "housekeeping" before sending them all back into the harvest field. The last session ended this morning and the pastors are leaving to return to their respective areas of ministry. Please continue to keep all the pastors and evangelists in your prayers as they work in preaching the Gospel of Jesus Christ!
During this season, we are especially reminded of all our prayer and financial partners. We are Thankful to God for each one of you! Thank you for allowing us to do what we do here in India in fulfilling Christ Great Commission!
Training thousands to reach the millions,
Jameson