One Billion Reasons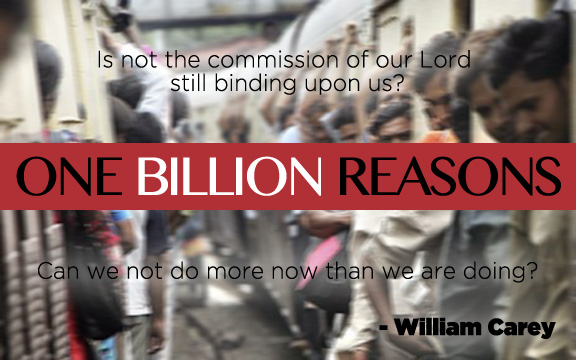 It's been nearly 2,000 years since Christ's resurrection. From then until now, there has been one simple focus for disciples of Christ: reach each and every soul with the gospel. Simple- yes, but not easy. It requires blood, sweat, and tears to see this work accomplished. For centuries, that blood, sweat, and tears has been shed to see the Good News about Christ's rescuing love shared with desperate people in desperate circumstances.
As a pastor, it has been my aim to take up this task. I have taken my strategy directly from the ministry of Jesus Christ: find people in need, then do my best to meet the need. Whether it be financial needs, emotional needs, medical attention, food to the hungry, clothes for the naked, education, or simply being a friend – needs such as these are ever-present. Just take a few steps outside of your door, and they can be found.
Early in my ministry, I was made aware of the desperate need in India. As the second most populous country in the world, it is home to over 1 billon people (1, 237,000,000 + since 2012). Of those 1 billion + people, there are over 100 million Christians! Although that is an incredible number worth celebrating, it indicates that still over 1 billion people are unreached. Of those 1 billion unreached people, over 80% live on less than $3.00 per day, and over 30% are considered impoverished. Nearly half of the 1 billion are children, and of those children, 40% are of the impoverished. Here's the breakdown again:
1.2 billion people in India
100 million Christians… THANK YOU JESUS!
1.1 billion unreached for Christ
900 million live on less than $3 per day
400 million live on less than $1.25 per day
440 million children
200 million of those children are impoverished… HELP US JESUS!
When I reflect on data like that, I think of the words of Paul in Ephesians 3…
For this reason I bow my knees before the Father, from whom every family in heaven and on earth is named, that according to the riches of his glory he may grant you to be strengthened with power through his Spirit (Ephesians 3:14-16 ESV)
At first look, it may seem impossible, but imagine the power of mobilizing some of those 100 million Christians to reach those 1.1 Billion unreached people.
At Christ For India, the infrastructure is there. A ministry with a large campus located in India providing education for children, ministry training for believers, medical care for those in need, and many humanitarian efforts to meet some of the most deeply felt needs in India. There are currently over 250 pastors that have been sent from CFI. There are hundreds of children being educated right now, and dozens of seminary students are being equipped to multiply the efforts.
With over 1 billion unreached souls still in need of Christ's redemptive love in India, we have 1 billion reasons to add our blood, sweat, and tears to the work. Please pray, please give, and please join our hands in an effort to give Christ to India.
For more information on the most urgent projects, read Key Projects In 2014…
To visit the Christ for India Campus, please contact us so that we can assist in making the arrangements…