Graduation Report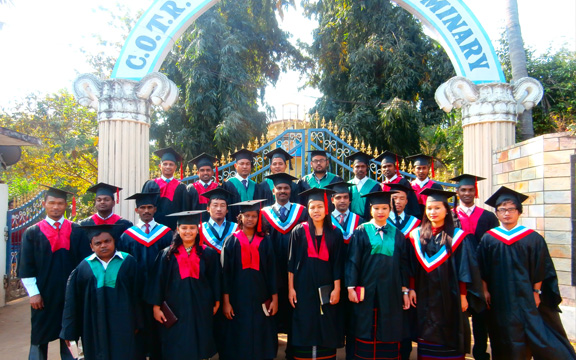 Thank you for all your prayers and support. India now has the 29th state of the union formed – named Telangana. The national elections are over with reports of 800 million voters! The BJP, a party usually described as Hindu nationalists, defeated the Congress party.
During the last year, the political situation has not been good for the people of our state or for the ministry. We have dealt with riots, strikes, vehicles being damaged by mobs, fires and roadblocks, civil unrest, government offices closed, schools shut down, teachers on strike, and more! But we know that through it all, God is in still in control .
By God's grace, the ministry is doing well. Officially, the state has been split, and now we are now dealing with the end of the political elections. The BJP party I mentioned earlier has been known in the past to be unfriendly to Christians. Please pray for our safety during this transition. Also pray for the new party that is in power, for our state, A .P., for the new state (Telangana), and for the country of India.
In the midst of this, we had the highlight of our year with 39 new graduates being commissioned and sent into the harvest field! We also held our annual pastor's conference, where pastors from North India, South India, and in-between gathered and were encouraged, refreshed and equipped to go back into the harvest field planting new churches and fulfilling Christ's Great Commission in the land of India. I am grateful for our keynote speakers including Dr. Ron Hammonds, Dr. Sonny Conatser and Dr. Doug and Cyndi Erickson. This year's theme was "Discipleship" and all speakers had great teachings and encouraging words for the graduates and delegates.
A special thanks to all of our teams that have taken their own resources and time to come and serve on campus:
·         Pastor Julian & Wendy Richards and CVCC Church team
·         Pastor Trevor Bucknell from Harvest Bible College
·         Pastor Ron Lewis and Pastor Gabriel Hensley and the COTR Kansas City team
·         Pastor Mike and Ruth Edwards and trustees from Wales
·         Pastor Ben and Jamie Starr and team from C3 Australia
·         Howard Poole and Don Einam from Australia
·         Dr. Greg Haynes and Scott Smith from Carry the Light Ministries in the US
In our state, the economic climate is also changing with the uncertainty and instability in the government. The cost of rice, vegetables, eggs and chicken have risen dramatically. Our city is one of the top three choices to become the new capital of our state, causing land prices to rise as well. This has made it difficult to purchase land to build new churches. The urgency for Christ for India to become more self-sufficient from within India is becoming critical .
One of our main projects this year is to buy a rice paddy, as we are now providing almost 3,000 meals per day! Rice is one of our most expensive food costs and we can save valuable funds by cultivating it ourselves. Please prayerfully consider helping us with this project! We need to buy 17 acres of rice paddy with the approximate cost at $20,000 per acre.
In addition, we continue to have many children who need sponsorship, seminary students who need scholarships and 150+ pastors who need monthly sponsorships as they plant and pioneer churches in unreached villages .
Since 1981, God has provided for all of our needs in all areas of ministry. God is faithful!
Thank you for all that you do and your consideration on all projects this year.
Training thousands to reach the millions,
Jameson Titus