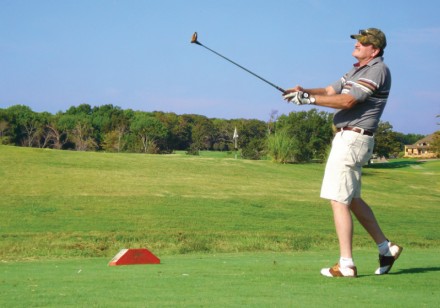 Titus Classic Golf Tournament
Dear Golfer,
We are pleased to invite you to participate in our "Titus Classic 100" Golf Tournament benefiting Christ for India. While the thought of playing 100 holes of golf in a day may leave you running for the clubhouse or wondering if we have been out in the Texas sun too long, let me assure you that this feat does not rate with the iron-man triathlon, or with building the Taj Mahal! It is, in fact, a great day of golf and fun, for a great cause.
Imagine, if you will, a day of golf with no waiting, great food, prizes and par golf for all players. All right, so we can't deliver the par golf part, but the other aspects of the day are accurate. Mix in raising money to help Christ for India provide humanitarian aid, educate the children and women of India, train national pastors and evangelists, establish national churches, and you have the Christ for India "Titus Classic 100".
– Jameson Titus
P.S. Don't be discouraged by having to raise the sponsorships! You'd be surprised how easy it is. Just mention to your friends, family and business colleagues and see how many would be glad to help.
WHERE THE FUNDS GO…
New Life Children's Home
Caring for poor and destitute children. Approximately 250 children are given room, board, education, healthcare, spiritual guidance and training.
Nava Jeevan Public School
A first class education in a Christ-centered environment is offered from kindergarten through 10th grade. This outreach touches the Hindu and Muslim villages surrounding the campus.
Jyothi Hospital
A 30 bed full-fledged hospital serving the poor villagers around the region. The purpose is to alleviate the sufferings of the destitute and poor.
Medical Outreach Work
Free medical consultation. A medical team consisting of a doctor, nurse, and pharmacist, along with helpers, visits nearby villages providing free medical care.
Stay tuned for the next Golf outing date!